Details
| | |
| --- | --- |
| Brand | De Atramentis |
| Line | |
| Name | Apple Blossom |
| Owner count | 88 |
| Average Color | |
Colors for this ink
Errors
If there are any inks that don't belong here or if there is anything else that is wrong, feel free to report this using the button below. We will try to fix it as soon as possible.
Report an error
Reviews
Review: DeAtramentis Apple Blossom Ink
www.wellappointeddesk.com
DeAtramentis Apple Blossom ($12.95 for a 35ml bottle) is sort of an "in between" color. Its not quite red, pink, burgundy or purple. I would best describe is as a smoky red violet. Its …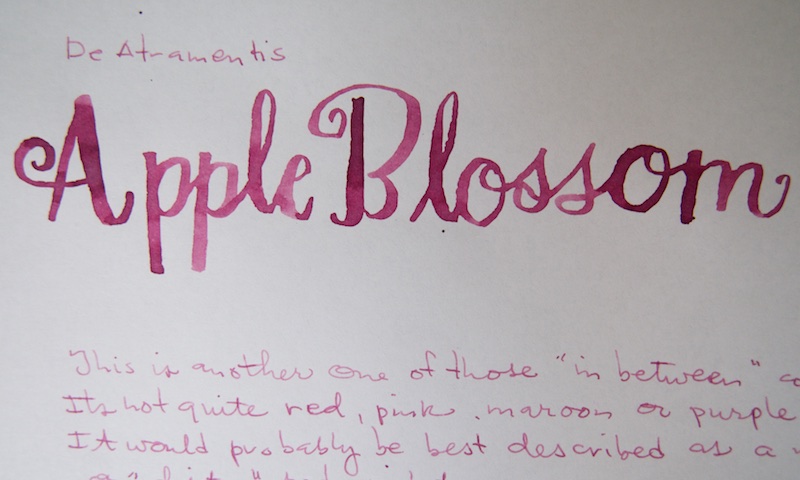 DeAtramentis Apple Blossom (scented)
www.youtube.com | Miss Marilyn Darling
THANKS FOR WATCHING PLEASE DONT FORGET TO LIKE , COMMENT, SUBSCRIBE, RING THE BELL MAKE SURE ITS SET TO ALL SO THAT WAY WHEN I UPLOAD NEW CONTENT YOUTUBE NOTIFIES YOU http://www.facebook.com/mari...
Names for this ink
| Count | Brand | Line | |
| --- | --- | --- | --- |
| 55 | De Atramentis | | Apple Blossom |
| 23 | De Atramentis | Scented | Apple Blossom |
| 3 | De Atramentis | | Apple Blossom Scented |
| 2 | DeAtramentis | Scented | Apple Blossom |
| 1 | De Atramentis | Scented | Apple Blossoms |
| 1 | De Atramentis | Scented Flowers | Apple Blossom |
| 1 | De Atramentis | Scented Flowers | Apple Blossom Dark Red |
| 1 | DeAtramentis | | Apple Blossom |
| 1 | De Atramentis | Flowers | Apple Blossom |